WP_Query Object
(
    [query] => Array
        (
            [tag] => education
        )

    [query_vars] => Array
        (
            [tag] => education
            [error] => 
            [m] => 
            [p] => 0
            [post_parent] => 
            [subpost] => 
            [subpost_id] => 
            [attachment] => 
            [attachment_id] => 0
            [name] => 
            [static] => 
            [pagename] => 
            [page_id] => 0
            [second] => 
            [minute] => 
            [hour] => 
            [day] => 0
            [monthnum] => 0
            [year] => 0
            [w] => 0
            [category_name] => 
            [cat] => 
            [tag_id] => 10603
            [author] => 
            [author_name] => 
            [feed] => 
            [tb] => 
            [paged] => 0
            [meta_key] => 
            [meta_value] => 
            [preview] => 
            [s] => 
            [sentence] => 
            [title] => 
            [fields] => 
            [menu_order] => 
            [embed] => 
            [category__in] => Array
                (
                )

            [category__not_in] => Array
                (
                    [0] => 22371
                )

            [category__and] => Array
                (
                )

            [post__in] => Array
                (
                )

            [post__not_in] => Array
                (
                )

            [post_name__in] => Array
                (
                )

            [tag__in] => Array
                (
                )

            [tag__not_in] => Array
                (
                )

            [tag__and] => Array
                (
                )

            [tag_slug__in] => Array
                (
                    [0] => education
                )

            [tag_slug__and] => Array
                (
                )

            [post_parent__in] => Array
                (
                )

            [post_parent__not_in] => Array
                (
                )

            [author__in] => Array
                (
                )

            [author__not_in] => Array
                (
                )

            [ignore_sticky_posts] => 
            [suppress_filters] => 
            [cache_results] => 1
            [update_post_term_cache] => 1
            [lazy_load_term_meta] => 1
            [update_post_meta_cache] => 1
            [post_type] => 
            [posts_per_page] => 14
            [nopaging] => 
            [comments_per_page] => 50
            [no_found_rows] => 
            [order] => DESC
        )

    [tax_query] => WP_Tax_Query Object
        (
            [queries] => Array
                (
                    [0] => Array
                        (
                            [taxonomy] => category
                            [terms] => Array
                                (
                                    [0] => 22371
                                )

                            [field] => term_id
                            [operator] => NOT IN
                            [include_children] => 
                        )

                    [1] => Array
                        (
                            [taxonomy] => post_tag
                            [terms] => Array
                                (
                                    [0] => education
                                )

                            [field] => slug
                            [operator] => IN
                            [include_children] => 1
                        )

                )

            [relation] => AND
            [table_aliases:protected] => Array
                (
                    [0] => wp_term_relationships
                )

            [queried_terms] => Array
                (
                    [post_tag] => Array
                        (
                            [terms] => Array
                                (
                                    [0] => education
                                )

                            [field] => slug
                        )

                )

            [primary_table] => wp_posts
            [primary_id_column] => ID
        )

    [meta_query] => WP_Meta_Query Object
        (
            [queries] => Array
                (
                )

            [relation] => 
            [meta_table] => 
            [meta_id_column] => 
            [primary_table] => 
            [primary_id_column] => 
            [table_aliases:protected] => Array
                (
                )

            [clauses:protected] => Array
                (
                )

            [has_or_relation:protected] => 
        )

    [date_query] => 
    [queried_object] => WP_Term Object
        (
            [term_id] => 10603
            [name] => education
            [slug] => education
            [term_group] => 0
            [term_taxonomy_id] => 10603
            [taxonomy] => post_tag
            [description] => education
            [parent] => 0
            [count] => 29
            [filter] => raw
        )

    [queried_object_id] => 10603
    [request] => SELECT SQL_CALC_FOUND_ROWS  wp_posts.ID FROM wp_posts  LEFT JOIN wp_term_relationships ON (wp_posts.ID = wp_term_relationships.object_id) WHERE 1=1  AND ( 
  wp_posts.ID NOT IN (
				SELECT object_id
				FROM wp_term_relationships
				WHERE term_taxonomy_id IN (22364)
			) 
  AND 
  wp_term_relationships.term_taxonomy_id IN (10603)
) AND wp_posts.post_type = 'post' AND (wp_posts.post_status = 'publish') GROUP BY wp_posts.ID ORDER BY wp_posts.post_date DESC LIMIT 0, 14
    [posts] => Array
        (
            [0] => WP_Post Object
                (
                    [ID] => 27784
                    [post_author] => 670
                    [post_date] => 2017-08-07 13:13:10
                    [post_date_gmt] => 2017-08-07 03:13:10
                    [post_content] => 

Parents need a fair and informed choice, writes incoming CEO of Primary Ethics Evan Hannah.

Allowing parents to make an informed choice when enrolling their children in NSW public schools is simply a matter of fairness. But in NSW, you cannot enrol your child in ethics classes on the enrolment form, as you can for religious instruction.

The burden is on parents to work through the current confusing process before they finally get the chance to access ethics classes for their child.

I became involved with ethics education as a volunteer ethics coordinator three years ago at my son's school in Sydney's inner west. As an ethics coordinator, I've seen that the unfair approach to enrolment into ethics classes continues to frustrate parents and school staff alike.

The government has made it as difficult as possible for parents to access ethics classes for their children. It rejected recommendations from an independent report for parents to be provided with better access to information and enrolment opportunities, and it cannot explain why that is fair or reasonable.

Quite simply, we just seek equal treatment for all parents. We'll continue to work with the Department of Education to streamline the enrolment process for both parents and school staff.

Who is Primary Ethics?

Primary Ethics was established in 2010 at the request of the NSW Government to provide ethics education for children in NSW public schools. From 1,530 students in the first year of classes, Primary Ethics is now taught to more than 36,000 students by 2,500 volunteers in weekly classes at 450 schools across NSW.

An ethics program is launched at a new school approximately every 10 days, but the government enrolment policy is a huge impediment to fulfilling the Primary Ethics goal of offering the program to the rest of the estimated 70,000 students who are currently spending one lesson a week in the holding pattern of 'non-scripture'.

The continuing confusion about enrolments obviously affects our growth. We know when one school decides to start Primary Ethics classes, and we train volunteers who then begin teaching, it has a domino effect on nearby schools as awareness grows. Removing the ridiculous block on informed choice would give more NSW children a chance to learn skills to make better decisions.

Public support for an ethics-based complement to Special Religious Education (SRE), began in the early 2000s and culminated in an amendment to the NSW Education Act in 2010 to enable Special Education in Ethics (SEE) classes to be delivered alongside religious instruction during the designated timeslot.

This was significant, because it was the first time since 1866 that children who did not take scripture could instead take part in an activity of benefit to the child, instead of effectively doing nothing.

Until 2010, the Education Act mandated that children who did not attend scripture could not undertake any learning during this timeslot to ensure that children receiving religious instruction did not miss out.

Discussion-based ethics classes are facilitated by trained local volunteers using a curriculum written by specialist in philosophy and education, Dr Sue Knight, and reviewed by both an internal committee and the Department of Education. The stage 3 (years 5 & 6) lesson materials were completed in 2011, the first year that the ethics program was rolled out. A new stage-based curriculum was developed each year, and from 2015, the program has been available for delivery across all primary-school stages, from kindergarten to year 6.    

We now have an excellent, world-first ethics curriculum available free for communities to use to educate their children. And thanks to donations, we are also able to provide recruitment, screening, and free training and support for volunteers willing to be involved in delivering those lessons.

Primary Ethics is the sole provider of ethics classes in NSW. The free program is taught by trained volunteers following a curriculum written for various primary school stages, covering years K-6. The curriculum is approved as age-appropriate by the Department of Education. Evan Hannah is a former journalist and news media manager who became CEO of the not-for-profit organisation in July.

 

 
                    [post_title] => Schools: we need clarity around the ethics option
                    [post_excerpt] => Parents need a fair and informed choice, writes Evan Hannah.
                    [post_status] => publish
                    [comment_status] => open
                    [ping_status] => open
                    [post_password] => 
                    [post_name] => schools-need-clarity-around-ethics-option
                    [to_ping] => 
                    [pinged] => 
                    [post_modified] => 2017-08-07 20:18:17
                    [post_modified_gmt] => 2017-08-07 10:18:17
                    [post_content_filtered] => 
                    [post_parent] => 0
                    [guid] => https://www.governmentnews.com.au/?p=27784
                    [menu_order] => 0
                    [post_type] => post
                    [post_mime_type] => 
                    [comment_count] => 0
                    [filter] => raw
                )

            [1] => WP_Post Object
                (
                    [ID] => 27473
                    [post_author] => 670
                    [post_date] => 2017-06-26 13:25:16
                    [post_date_gmt] => 2017-06-26 03:25:16
                    [post_content] => Opinion - Paul Greenberg



It seems that our work loads are expanding. Our inbox is getting fuller, more meetings, more travel, more reports. So when an invitation to attend an industry conference and expo pops up in our inbox or in-tray, it is understandable that for many of us, these invitations get binned. But I would ask you to consider the following points, in support of attending these events.

Don't forget your personal brand

I am often asked to have a coffee with talented professionals in logistics and supply chain. Often, they are looking for a new role, and seeking a bit of guidance. All too often, these talented and hardworking professionals have done a fantastic job in their roles and for the company, but have all too often neglected to build their profile 'out there'. Personal branding is a big conversation, too long for this column, but I would ask you to consider that in our working careers there are two brands we must serve in equal measure. The company brand we work for, and our personal brand and professional development.

Professional development

I have held a registration as a psychologist in Australia for the last twenty years. And am a member of the Australian Psychological Society. This professional board, by example, demands that I attend industry events, seminars and workshops in pursuit of professional development. CPD points (continuing professional development) must be accrued and logged in order for the annual registration renewal, and many professional bodies follow similar formats. My question to you is: why should professionals in logistics be broadly exempt? After all, we manage significant capital assets and are responsible for safety in an often 'heavy metal' environment. Just saying.

Alliances

I have written quite a bit in this column about the importance of alliances in our industry. And frequently quote Carlos Slim, who states: "In this new wave of technology, you can't do it all yourself, you have to form alliances." This quote resonates for me and my career. Some of my regrets are around not forming alliances, even with the proverbial 'frenemies' I competed against. Industry events and expos are the perfect opportunity to plant seeds around potential alliances.

Networking 

See all the points above of course. But my point here is that in our corporate roles, and often regardless of our level in the organisation, there are limited opportunities in our working week to meet in the broader supply chain and logistics ecosystem. Sure we know our colleagues, and our key suppliers, and we might have a coffee from time to time with colleagues in other organisations. But what about new suppliers, new technologies, colleagues in other verticals and organisations, locally and globally? I believe industry events are actually a very effective use of time. Over a compressed two or three days, these events allow a lot of boxes to be ticked, on all the above points.

Go wide

Lastly, if some of the points above resonate, consider going wider than just logistics and supply chain events. In my role as founder and executive director of NORA.org.au, I am fortunate to attend and support a number of industry events. While mainly in retail, or retail-related, I often find that the real nuggets of gold can lie in those events and streams just a little 'outside the obvious'.

Happy prospecting!

Paul Greenberg is the founder and executive director of NORA.org.au.


 
                    [post_title] => Industry events: to attend or not to attend, that is the question
                    [post_excerpt] => Professional development is an essential ingredient of your personal brand.
                    [post_status] => publish
                    [comment_status] => open
                    [ping_status] => open
                    [post_password] => 
                    [post_name] => industry-events-attend-not-attend-question
                    [to_ping] => 
                    [pinged] => 
                    [post_modified] => 2017-06-26 15:32:59
                    [post_modified_gmt] => 2017-06-26 05:32:59
                    [post_content_filtered] => 
                    [post_parent] => 0
                    [guid] => https://www.governmentnews.com.au/?p=27473
                    [menu_order] => 0
                    [post_type] => post
                    [post_mime_type] => 
                    [comment_count] => 0
                    [filter] => raw
                )

            [2] => WP_Post Object
                (
                    [ID] => 27361
                    [post_author] => 659
                    [post_date] => 2017-06-13 11:10:21
                    [post_date_gmt] => 2017-06-13 01:10:21
                    [post_content] => 

 

Affordable housing, infrastructure spending, mental health, new schools, family violence and drug courts and 6,000 more public servants are expected to be some of the cornerstones of Queensland Treasurer Curtis Pitt's budget today (Tuesday).

It is a budget with real heart, with a focus on people doing it tough, whether it is people battling drug addiction or poor mental health, children in unsafe situations or those who cannot afford a secure place to live and one likely to help Ms Palaszcuk's bid for re-election in around six month's time.

One of Queensland Premier Annastacia Palaszczuk's biggest ticket items in today's budget, which will be announced around 2.30pm, will be $1.8 billion for social and affordable housing under the state's new 10-year Queensland Housing Strategy.

The money will be used to build 4,522 new social homes and 1,034 affordable homes and introduce targets for social and affordable housing of between 5 to 25 per cent for new homes built on state land.

It also includes $20 million for new Youth Foyers in Townsville and the Gold Coast and expanding the Logan foyer. The service, run by Wesley Mission, provides supported accommodation and social and emotional support for marginalised young people aged 16 to 25.

The government has also committed to creating housing and homelessness hubs; $30 million to reform the housing system and $75 million for Aboriginal and Torres Strait Islander home ownership. It is expected there will be 450 full-time construction jobs created a year.

Ms Palaszczuk called the $1.8 billion investment 'a launch pad for opportunity and aspiration'.

"Secure housing enables young people to finish their education. It provides the stability that keeps families together. And it gives people the secure base they need to get and keep a job," she said.

Queensland Treasurer Curtis Pitt said state-wide expressions of interest for initial projects would be online from today.

"Our ten-year construction program provides industry with a stable and predictable program of work so they can have certainty," Mr Pitt said.

"This is about best practice procurement, working to match projects to appropriate partners, creating opportunities for small, medium and large businesses. Whether you are a small home builder or one of the state's largest developers there is something in this construction package for you."

Queensland Minister for Housing and Public Works Mick de Brenni said the strategy would leverage investment from the private sector create 'genuine affordable housing' in the state on underused government land.

"This strategy is a big win for local builders and tradies in the residential sector across the state," Mr de Brenni said.

"This strategy is about partnering with the private sector and community housing providers to create genuine affordable housing, something that hasn't been done at scale in this country in decades."

Housing affordability has been a key component of state and federal budgets of late.

NSW Premier Gladys Berejiklian announced a suite of housing measures earlier this month but the reforms were focused more on helping out first home buyers with stamp duty concessions and grants, increasing duties and taxes for foreign property investors and speeding up development applications.

Housing was also top-of-mind for Federal Treasurer Scott Morrison in his May Budget when he announced a bond aggregator scheme, which hopes to attract large-scale private investment into affordable housing by helping not-for-profit community housing providers borrow more cheaply.

Mr Morrison also introduced a super deposit scheme to enable first home buyers amass a deposit more quickly and but he pointedly refused to touch either negative gearing or capital gains tax discounts.

Other Queensland Budget measures include:

• Another $2 billion towards Brisbane's $5.4 billion Cross River Rail project, a 10.2km inner-city rail link between Dutton Park and Bowen Hill, taking the state's contribution to half
• $75 million for the Townsville Port expansion
• Upgrading the Sciencentre at the Queensland Museum on the South Bank ($9.4 million)
• $16 billion for health, including expanding mental health services and replacing the Barrett Centre, Queensland's only residential centre for youth with severe mental health problems
• $13 billion for education to build new high schools in Fortitude Valley and South Brisbane and buy land for four more regional high schools
• New domestic and family violence courts at Townsville and Beenleigh and making Southport court permanent ($69.5 million)
• Reinstating the Drug Court in Brisbane to help rehabilitate offenders and overcome substance dependence ($22.7 million over four years)
• A $200 million child safety package including 292 child safety staff, money to recruit an extra 1000 foster carers and $7.4 million to support families where a person has become addicted to ice
• $155 million for counter-terror policing with 30 more police officers in Brisbane and 20 in the regions and $46.7 million for a counter-terrorism facility at Wacol
• $1.1 billion for electricity projects and subsidies
                    [post_title] => A Queensland budget with heart: Palaszczuk prepares for re-election
                    [post_excerpt] => Cash for health, housing, kids and courts.
                    [post_status] => publish
                    [comment_status] => open
                    [ping_status] => open
                    [post_password] => 
                    [post_name] => queensland-budget-prepares-palaszczuk-re-election
                    [to_ping] => 
                    [pinged] => 
                    [post_modified] => 2017-06-13 11:10:21
                    [post_modified_gmt] => 2017-06-13 01:10:21
                    [post_content_filtered] => 
                    [post_parent] => 0
                    [guid] => https://www.governmentnews.com.au/?p=27361
                    [menu_order] => 0
                    [post_type] => post
                    [post_mime_type] => 
                    [comment_count] => 0
                    [filter] => raw
                )

            [3] => WP_Post Object
                (
                    [ID] => 27322
                    [post_author] => 659
                    [post_date] => 2017-06-07 12:59:07
                    [post_date_gmt] => 2017-06-07 02:59:07
                    [post_content] =>  


Graduates at Southern Cross University. Pic: Facebook.

 

NSW universities recorded a combined operating surplus of $631 million last year and have coped with government funding cuts by reining in spending and increasing their income from student fees and other sources, an audit has found.

Auditor-General Margaret Crawford's report, Universities: 2016 Audits, released yesterday (Tuesday) by the Audit Office of NSW, found that the state's ten universities were managing to stay afloat despite government cutbacks.

Ms Crawford said: "Universities are managing the impact of continued downtrend in Commonwealth government grants by diversifying revenue and constraining expenditure."

She said universities were now 'less reliant' on government grants.

The audit found that all of the universities recorded a surplus in 2016 and their combined growth in revenue exceeded their expenditure growth by 1.1 per cent, compared to a negative position (of 1.3 per cent) in 2015.

However, at an individual level, five universities saw their rate of expenditure growth surpassing their revenue growth.

Charles Sturt University had the highest negative earnings gap at 1.8 per cent, due to increased tuition contracts, while Sydney University's negative earnings gap of 1.7 per cent was primarily due to an increased wage bill and a write down of capitalised project costs.

Three other universities also had a negative earnings gap: University of New England (1.2%), University of Western Sydney (1.1%) and the University of Wollongong (0.9%).

Southern Cross University had the highest positive earnings gap at 10.7 per cent, driven primarily by an increase of $13.4 million in Commonwealth Government Education Investment Fund. Next was University of Technology Sydney at 3.9%; University of NSW with 3.7 per cent; Newcastle University 2.9% and Macquarie University with 2.3%.

Much of this financial buoyancy appears to be from a 25 per cent increase ($458 million) in overseas student revenue, a massive jump of 71.4 per cent since 2012.

Last year was the first time NSW universities have earned more from overseas students' course income than from domestic students' course income.

Ms Crawford said: "Some NSW universities' business models depend on international students' intake to be financially sustainable. These universities manage income concentration risk by focusing on increasing the geographical diversity of overseas students."

The balance between income gained from student course fees and government grants has been shifting over the last five years.

Income from student course fees jumped from 39 per cent in 2012 to almost 46 per cent in 2016, whereas Commonwealth grants have dropped from 42 per cent of universities' income in 2012 to 36 per cent in 2016.

The report echoes an earlier Deloitte Access Economics study using data from 17 Australian universities, which found that Australia's universities receive sufficient revenue through government funding and student fees to cover the cost of teaching most degrees.

Two major exceptions were dentistry and veterinary science, which were both found to be underfunded.

The study compared the average cost of delivering courses and said this had increased by 9.5 per cent between 2010 and 2015 while revenue went up by 15 per cent over the same period.

Managing the risks 

Despite these encouraging numbers from both surveys, universities face an uncertain future after federal Budget measures slugged them with an efficiency dividend of 2.4 per cent in May, alongside hiking up student fees and pushing graduates to repay loans more quickly.

The report identifies the top five strategic risks to NSW universities:

Government policy changes
Technology disruption
Increasingly competitive market for international students
Future financial sustainability
Investment in research not providing the desired outcomes and excellence
The Auditor-General said some universities' heavy reliance on overseas students made them vulnerable to fluctuations in overseas student numbers and this risk needed to be planned for and managed. Ms Crawford also said universities needed to keep pace with the practical demands of the job market, particularly where technology was concerned. The report said that NSW universities' current course enrolment statistics did not appear to mirror published skills shortages. "Courses with the highest proportion of enrolled students such as creative arts, society and culture do not mirror the skills shortage requirements in NSW for health, ICT and engineering," it said. "Aligning students' enrolment with the fields of skill shortages within the state would ensure funds are directed to educate graduates that can be employed." Another risk flagged was the need for universities to have a strategy for dealing with cyber threats and threats to intellectual property by tightening up their information security. "NSW universities need to review the design and effectiveness of their information security controls to ensure intellectual property, staff and student data are adequately protected," the Auditor-General recommended. This was mainly around password settings and administration of user access. User password settings need to be improved on the financial systems to help to reduce the risk of data leaks and inappropriate access. The 2016 Threat Report of the Australian Cyber Security Centre, identified intellectual property as a potential target for cyber criminals. "Universities generate a significant amount of intellectual property through their investment of public and commercial funds into research. The report also noted that cyber criminals are using increasingly sophisticated ways to elicit this high value," said the audit. Ms Crawford said that some universities were addressing these risks through 'stress testing and scenario analysis models' to understand and plan appropriate responses. [post_title] => NSW universities are doing ok, says audit [post_excerpt] => Overseas student numbers soar. [post_status] => publish [comment_status] => open [ping_status] => open [post_password] => [post_name] => nsw-universities-ok-says-audit [to_ping] => [pinged] => [post_modified] => 2017-06-09 10:03:24 [post_modified_gmt] => 2017-06-09 00:03:24 [post_content_filtered] => [post_parent] => 0 [guid] => https://www.governmentnews.com.au/?p=27322 [menu_order] => 0 [post_type] => post [post_mime_type] => [comment_count] => 0 [filter] => raw ) [4] => WP_Post Object ( [ID] => 27076 [post_author] => 659 [post_date] => 2017-05-08 15:52:04 [post_date_gmt] => 2017-05-08 05:52:04 [post_content] =>
Public servants and local councils are hoping Treasurer Scott Morrison's 'good news' Budget really is. Pic: YouTube. Housing affordability, a staged unfreezing of the Medicare rebate, infrastructure spending and Gonski 2.0 are all widely tipped to feature prominently in Treasurer Scott Morrison's "good news" Budget tomorrow. Other likely announcements include a one-pay payment for pensioners to offset electricity price increases, funding for veterans' mental health programs and dumping billions of dollars worth of education and health 'zombie' cuts. Meanwhile, Shadow Treasurer Chris Bowen has already called Mr Morrison's Budget a "pale imitation of Labor policy" and said it is merely an attempt to save Prime Minister Malcolm Turnbull's leadership by "trying to close down issues", while warning Catholic schools will stage a rebellion against their recalculated, lower funding. "It is designed to save Malcolm Turnbull's leadership, desperate to get a positive Newspoll," Mr Bowen told Barrie Cassidy on Insiders yesterday. "These half measures: one step forward, two step back, coming down the road towards Labor policy is [not] going to fool anybody. Of course, the fact Labor's led the policy agenda on health, education and housing affordability means the government is playing catch-up. "Whenever someone is playing catch-up with you, that's better than not catching up with you, but they are still a long way behind on these policies." But aside from the politics, what impact will the Budget have on local government and where will the inevitable spending cuts to fund the goodies come from? Local government wish list The biggest, most pressing issue for local government is the fervent hope that the federal government will finally end the freeze on the indexation of Financial Assistance Grants (FAGs) to councils, a decision which Joe Hockey deferred for another three years in his horror 2014 Budget. Regional and rural councils have borne the brunt of this measure, since they are much more dependent on FAGs for their general funding than metro areas due to their weaker rates' base. In April, the peak body for the nation's local councils, the Australian Local Government Association (ALGA), mounted a social media campaign pressing the government to end the FAGs freeze, while pressing the government to increase the quantum of FAGs in proportion to Commonwealth tax revenue. In 1996 FAGs were equal to about 1 per cent of Commonwealth tax revenue; by 2013-14 FAGs amounted to around 0.67 per cent of total. A growing infrastructure maintenance backlog, particularly in NSW, has seen ALGA request that the Roads to Recovery program should be permanently doubled, the Bridges Renewal program made permanent and Fairer Roads Funding restored for South Australia, at $17.5 million per annum. The Association's federal Budget submission also asked for $300 million a year over the next four years to fund community infrastructure which it said would stimulate long-term growth and build community resilience. Disaster funding and support to address climate change is also a priority for those councils in flood prone areas. ALGA has asked for a disaster mitigation program to be established funded at $200 million per year and an investment of $100 million over four years to support councils to manage their own climate risks. The Association also asked that the government to review municipal funding for services around indigenous housing, health, jobs and education. ALGA President David O'Loughlin said it was "an ideal time to invest in roads and bridges, community infrastructure and guarding against the world impacts of climate change" as well as the time "to start the discussion about the reality of the current funding constraints experienced by councils". "ALGA understands the fiscal challenges facing the Commonwealth, however, expenditure on priorities does not wait for a convenient moment," Mr O'Loughlin said. "Indeed, ALGA would argue that in times of fiscal constraint governments should focus on community priorities and investment in productive infrastructure through the most efficient processes to deliver programs." Specific items expected in the Budget include a $2.3 billion state-federal package for Western Australia to pay for freeways, regional roads and the Metronet rail project; motorway upgrades for South East Queensland and progress on the Melbourne to Brisbane Inland Rail project, alongside $6 billion for a second Sydney airport at Badgerys Creek. There is also likely to be an announcement of a further roll-out of City Deals, which focus on new infrastructure to help regional areas around urban centres. It will be fascinating to discover is there is any mention of the National Party-led push to decentralise government jobs, typified by the Australian Pesticides and Veterinary Medicine Authority's move from Canberra to Armidale, in tomorrow's Budget. The cuts One cut that has already been foreshadowed is reduced Commonwealth funding for universities, tighter rules around HECS repayments and a 2.5 per cent efficiency dividend that universities must meet. There may also be a series of smaller health programs that may be slashed or abandoned. Meanwhile, the Community and Public Sector Union is stealing itself for yet another round of public service job cuts, predicting that a further 4500 jobs could be slashed "if the government maintains its hard-line cuts" and adds to the 18,000 scalps it has already claimed. Instead the union is asking the government to target its money saving efforts at consultants and contractors and company tax avoidance and restore ATO jobs to prosecute this drive. CPSU National Secretary Nadine Flood said the relative silence before the Budget had been "strange and a tad unsettling" for government workers. "Treasurer Scott Morrison and the government in general have said much less about the national accounts than they normally would," Ms Flood said. "That silence hasn't exactly been reassuring for the public servants who keep the wheels of government turning. This government has repeatedly used them as a political football while also making harsh and short-sighted cuts. "Let's hope the government puts ordinary Australians first with this budget, rather than shooting itself in the foot with another round of counter-productive public sector cuts." We'll have to wait and see. [post_title] => Budget 2017: Implications for local councils [post_excerpt] => Union fears further public sector job cuts.   [post_status] => publish [comment_status] => open [ping_status] => open [post_password] => [post_name] => 27076 [to_ping] => [pinged] => [post_modified] => 2017-05-09 11:48:21 [post_modified_gmt] => 2017-05-09 01:48:21 [post_content_filtered] => [post_parent] => 0 [guid] => https://www.governmentnews.com.au/?p=27076 [menu_order] => 0 [post_type] => post [post_mime_type] => [comment_count] => 0 [filter] => raw ) [5] => WP_Post Object ( [ID] => 26822 [post_author] => 659 [post_date] => 2017-04-05 13:01:25 [post_date_gmt] => 2017-04-05 03:01:25 [post_content] =>
Former NSW Education Minister Adrian Piccoli goes back to uni. Pic: YouTube Adrian Piccoli – the dumped NSW Education Minister who famously made a stand against his own party by championing Gonski needs-based school funding – will work with the University of NSW on its programs for disadvantaged students and schools. Mr Piccoli was controversially dumped as the state's Education Minister during NSW Premier Gladys Berejikilian's Cabinet reshuffle in January and replaced with NSW Planning Minister Rob Stokes. Now the former minister has been appointed an Honorary Professor of Practice by UNSW, which will see him working with the School of Education and Arts and Social Sciences and giving guest lectures on politics and public policy while helping with the university's suite of education initiatives, particularly those around rural and remote education. These include:
Boosting the number of trainee teaching placements in rural areas
A partnership between UNSW and Matraville High School where undergraduate teachers run educational and fun after school workshops and support students academically while gaining valuable teaching experience.
ASPIRE, a program that aims to boost the numbers of children going to university in schools where numbers are low
UNSW President and Vice-Chancellor Professor Ian Jacobs said Mr Piccoli had shown great commitment to public education, particularly around improving literacy and numeracy in rural and remote communities, and welcomed him on board. "His expertise fits perfectly with the focus of our UNSW 2025 Strategy on educational excellence and social engagement. His contribution will be of great value in our efforts to provide the highest quality education, accessible to all parts of society," Prof Jacobs said. "I am delighted that Adrian is joining our team at UNSW and I look forward immensely to his input." Dean of UNSW Arts and Social Sciences Professor Susan Dodds said UNSW would draw on Mr Piccoli's practical policy knowledge and longstanding commitment to rural and remote education in the university's research and teaching. "We have plans to continue to expand our work with policy makers, schools and communities, and his appointment will help to focus those developments. In addition, Mr Piccoli has agreed to offer some guest lectures to students in courses on politics and public policy, informed by his experience as an MP," Prof Dodds said. Mr Piccoli said he was committed to improving the outcomes for students across NSW and Australia. "This is a great opportunity to continue making a contribution to education in conjunction with one of the finest universities in the country," he said. [post_title] => Piccoli takes on uni role to help disadvantaged students [post_excerpt] => Remote and rural areas focus. [post_status] => publish [comment_status] => open [ping_status] => open [post_password] => [post_name] => piccoli-takes-uni-role-help-disadvantaged-students [to_ping] => [pinged] => [post_modified] => 2017-05-17 11:58:42 [post_modified_gmt] => 2017-05-17 01:58:42 [post_content_filtered] => [post_parent] => 0 [guid] => https://www.governmentnews.com.au/?p=26822 [menu_order] => 0 [post_type] => post [post_mime_type] => [comment_count] => 0 [filter] => raw ) [6] => WP_Post Object ( [ID] => 25442 [post_author] => 658 [post_date] => 2016-11-01 09:14:30 [post_date_gmt] => 2016-10-31 22:14:30 [post_content] =>
  By Tony Sandberg, Director, Solutions and Industry Marketing Asia Pacific at Polycom. I had the pleasure of hosting discussions during the OpenGov Leadership Forum in Canberra last month. It was a chance for government departments across a broad range of sectors and geographies to collaborate and share insights on how they are hoping to use technology to 'do more with less' – in a bid to become more collaborative, while also transforming their workspaces and culture to create a 'workplace of the future' today. Perhaps this need for change is not all that surprising given the Government's current innovation agenda. Deloitte Australia also estimates that by simply collaborating more than they do right now, Australian businesses can add up to AUD$9.3 billion per year to the economy1. If this is the case, then it stands to reason that government will also reap massive rewards if they can successfully adopt a more collaborative culture inside their own departments. However, in Canberra, it became apparent very quickly that, while there is clear intent to change, there is still work to be done in order to embrace the benefits of using collaboration technologies within all levels of government. Understanding the Role of Email in the Collaborative Workspace It's human nature. We don't like to change and are often drawn to what's familiar. The same applies to our technology preferences. For example, the majority of delegates said they still use email as their main collaboration tool because of its familiarity and ability to act as a record keeper of conversations and decisions. Interestingly, a recent Polycom Workplace of the Future2 survey found that, despite 97% of ANZ businesses believing technology-enabled collaboration is key to remaining competitive, most still rely on 20th century technologies such as email and phone. That said, there did seem to be a genuine desire among the government agencies present to be less dependent on emails in favour of real time communications and face-to-face collaboration. Effective Collaboration Needs 'Location Liberation' It was also encouraging to hear that some departments are already using collaboration tools like video to meet with their own geographically dispersed teams, other agencies, and international stakeholders. These departments already understand the benefits of using face-to-face collaboration technology to improve their service responsiveness, efficiency and productivity. Interestingly, the heavier users of video conferencing had also noticed less emails being sent and less email dependency. Today, most video collaboration within Government is still happening inside traditional meeting rooms. These spaces are often difficult to access as they are heavily booked. To overcome this meeting room bottleneck, some departments have already started using video from their desktops, mobile devices and 'huddle rooms' – smaller meeting spaces. For others, the need for "location liberation" was seen as key to allow them to use video more frequently outside the traditional conference room environment. Rethinking Workspace and Workplace Policies Government teams across industries and geography shared how they are starting to re-design workspaces and how workplace behaviour is also starting to adapt around them. It was no surprise that improving office design and layout was seen as an important enabler for the effective use of collaboration tools. While modern government offices have been designed with collaboration spaces in mind, many older buildings still lack the flexibility of being able to access collaboration technology outside the conference room. There was also a call for less bureaucracy and policies surrounding the use of video conferencing to move it out of the boardroom, ensuring greater flexibility and alignment with end user needs. Education Seen as a Key Driver to Workplace Adoption and Cultural Change The cultural change of using more real time communication instead of emails was recognised as one of the main hurdles to be overcome. Employee education around the ease of use was identified as a major driver for adoption. Essentially, when people start to use video collaboration and see the benefits it can drive the change in culture. One delegate summed it up by saying "people need to talk more with each other". Over time it's expected this work culture shift will also bring to the fore integrated solutions and workflows for ease of use such as integration with Skype for Business and Office 365. Five Key Tips for Improving Collaboration in Your Workplace Today Whether you are just starting out on your collaboration journey or actively planning the future state of your workplace, the tips below should support you on the journey:
Measuring the uptake and utilisation of existing collaboration tools can help you discover quick win opportunities for improved productivity gains, e.g. number of team video conferencing meetings held in a week.
Establish current collaboration usage and combine this with a strategy to address issues (such as the availability and type of tools, adoption programmes or workflows), your teams can improve their collaboration significantly.
Choose a solution that is easy to use. Video collaboration adoption requires systems to be easy to use and manage, and also deliver a consistent, great experience anywhere and on any platform.
Integrate and streamline, again for ease of use and quick adoption. Users need new collaboration technologies to be integrated with popular communication platforms like Microsoft Office 365 and normal day to day workflows. Choose solutions that are interoperable and provide secure access regardless of location, network or device.
Work with your IT Team to update Bring Your Own Device (BYOD) policies to accommodate the needs of flexible workers and contract staff to ensure they remain productive and connected regardless of location.
Looking to the Future The Australian government is in many areas ahead of other Governments within Asia Pacific in recognising the importance of collaboration tools.  Additionally and perhaps reassuringly, other governments around the world also face similar challenges in regards to cultural workplace changes, adapting policies and promoting ease of access. For now though, the focus for many Australian government departments is how to take that all-important next step for a connected workplace of the future – where internet, innovation and productivity work in unison. And, they want solutions that will improve workflow, experience and productivity – today. About the Author: Tony Sandberg, with a background in the telecommunications / IT industry, focusing specifically on Service Providers, Enterprises and Government, is the Director, Industry Solutions and Market Development for Polycom Asia Pacific. He is a leader in collaborative workspaces and interactive videoconferencing. For two decades he has held senior roles in business development, sales and marketing, solutions management and partnerships. He holds a Master's of Science in Business Administration and Economics from the University of Växjö Sweden. 1As summarised in their Global Human Capital Trends Report 2016. 2The Polycom Australia and New Zealand (ANZ) Workplace of the Future report captured insights from 1,500 plus employers and employees across ANZ. For many, the focus at OpenGov was on how to take that all important next step in their digital transformation. And they want organisation-focused solutions that will help them to create a true Workplace of the Future by improving workflow, experience, the workspace and ultimately, stakeholder satisfaction. [post_title] => Unlocking the benefits of collaboration for government [post_excerpt] => Shift to face-to-face technology. [post_status] => publish [comment_status] => open [ping_status] => open [post_password] => [post_name] => unlocking-the-benefits-of-collaboration-for-government [to_ping] => [pinged] => [post_modified] => 2016-11-01 09:16:43 [post_modified_gmt] => 2016-10-31 22:16:43 [post_content_filtered] => [post_parent] => 0 [guid] => https://www.governmentnews.com.au/?p=25442 [menu_order] => 0 [post_type] => post [post_mime_type] => [comment_count] => 0 [filter] => raw ) [7] => WP_Post Object ( [ID] => 24925 [post_author] => 658 [post_date] => 2016-09-07 16:20:22 [post_date_gmt] => 2016-09-07 06:20:22 [post_content] =>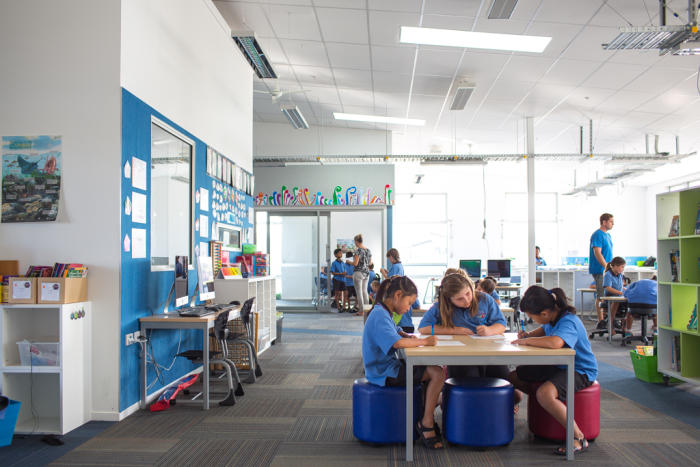 Stonefields School, Auckland, NZ. Shared spaces enable collaborative teaching and student directed learning. Architect: Jasmax. Picture: Alex de Freitas. By Jo Chandler, University of Melbourne Fifty years ago Wesley Imms' classroom was a ship. The next year a spaceship. Those memories sparked his quest for learning spaces to fit the needs of 21st century schoolkids. In Ms Richmond's Grade 2 class of '65, East Devonport Primary School, Wesley Imms got an education that set him on course for life. His young teacher had just taken up her post in Tasmania after a sojourn in the UK, where she had soaked up some edgy educational thinking. The local schools superintendent happened to be absent, and with the principal on board, there was no one to thwart her then radical ambitions. "She decided to turn the classroom into a ship for a year, and she sailed us around the world in the SS Discovery," recalls Associate Professor Imms, from the Melbourne Graduate School of Education. Day One the kids threw streamers out the windows as their parents waved them off. "I was the quartermaster – I had a little hat and used to ring the bell." The purser would collect all the lunches as the pupils came aboard, passing them out when they weighed anchor for lunch. Lessons waited in every port. The next year Ms Richmond transformed the classroom into a spaceship and Grade 2 spent a year on the moon. A couple of years later they ventured deep into the galaxy, inspired by Stanley Kubrick's epic 2001: A Space Odyssey. A few years ago, Associate Professor Imms and some of his University of Melbourne colleagues went back to interview Ms Richmond, then in her 80s, and trawled through her archive of lesson plans, slides and writing samples. They surveyed some of his Grade 2 fellow travellers and confirmed what Associate Professor Imms, drawing on his vivid memories, had long suspected. "They all said they could remember almost nothing of the rest of their schooling, but that year was crystal clear," he says. "They could remember almost every day. We had that one year where a teacher really went out of her way to manipulate the environment and to introduce a pedagogy that was much more fluid and much more interdisciplinary."The result was some transformative deep learning.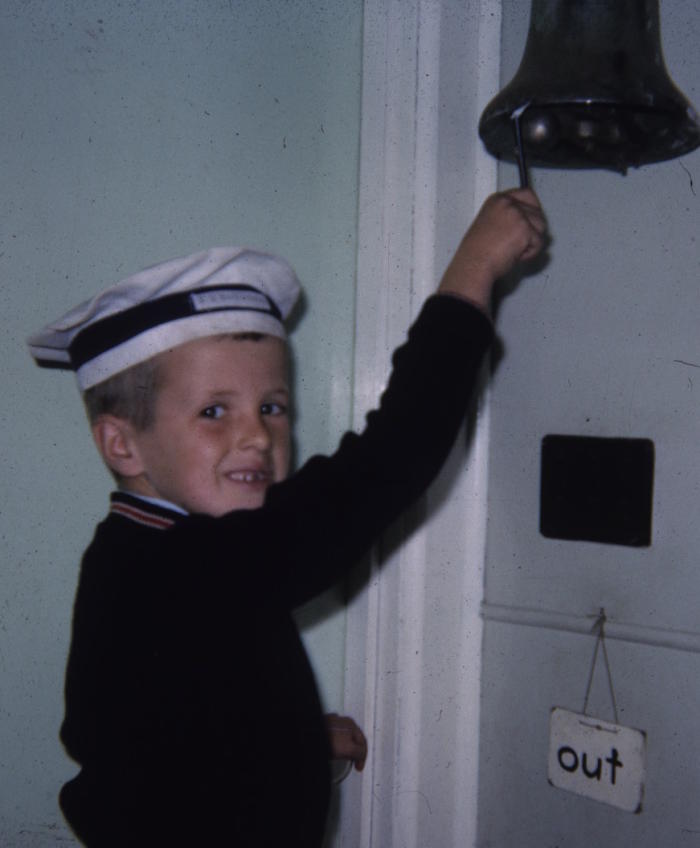 Wes Imms as Quartermaster on the SS Discovery, Grade 2 class of '65, East Devonport Primary School. Pic: Associate Professor Wesley Imms How and why these Grade 2 lessons became so ingrained goes to the core of what has become Associate Professor Imms' professional and academic pursuit 50 years on. "Space matters," he says. "But more importantly, how teachers use space is the critical thing." Associate Professor Imms is project lead investigator of the Innovative Learning Environments and Teacher Change Project (ILETC), a $2 million Australian Research Council Linkage Project that will run for the next four years. It gears up just as another related ARC project – the Evaluation of 21st Century Learning Environments (E21LE), also overseen by Associate Professor Imms – comes to its end. These two cross-disciplinary projects bring together a University of Melbourne team of researchers from the Melbourne Graduate School of Education and the Faculty of Architecture, Building and Planning, through the Learning Environments and Applied Research Network (LEaRN). Between them, the two enterprises aim to build tools to assess the educative value of modern, innovative classrooms; and then to challenge teachers on how they might use these spaces to their full potential. It's an overdue investment in evaluating what works and doesn't in the 21st century classroom – not least given concerns about Australia's record of slow, steady decline across most educational standards. Indeed on the day Pursuit interviews Associate Professor Imms, the latest NAPLAN results reveal literacy and numeracy are stagnating and writing skills in years 7 and 9 have significantly decreased. What's causing this shift? Do we blame the teaching, the environment, the adequacy of schools funding and resources? Digging into these questions is a central concern of Associate Professor Imms and his collaborators – educators, architects and designers – working within LEaRN. Inevitably the backlash over NAPLAN includes calls from some quarters to "sit the kids down and read and write and do sums". "I've got no argument with that except where it is tied only to a didactic teaching style," he says. "Students facing the front, the teacher lecturing, kids writing it down and memorising it and spilling it back – we need a component of that for sure." But it needs to be integrated into a flexible suite of teaching styles and contexts if students are also going to graduate with the skills demanded in the changing workplace.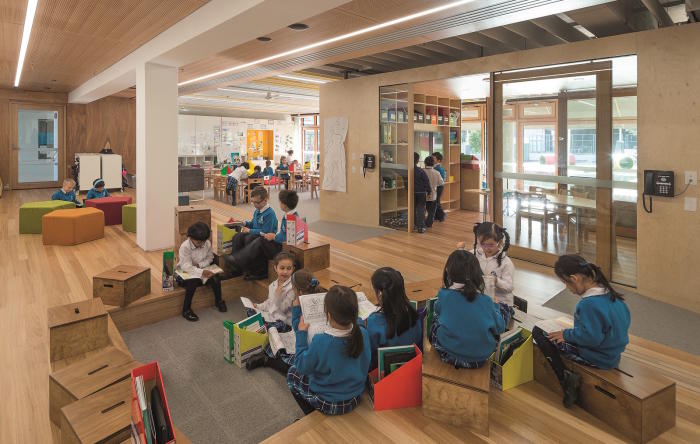 The next generation of workers, he says, "have to be collaborative, have to access information very quickly, have to work in teams, have to be very lateral in the way they approach problems, so they require a learning environment that builds those skills". Classrooms have been transformed by shifting fashions since the 1970s – free-range layouts; learning hubs and beanbag drop zones; moveable walls, to name a few. But there has been remarkably little effort by researchers anywhere to unpick the relationships between the hardware, the software, the infrastructure, the teaching and the student report cards. This is the territory being explored by the pair of ARC projects, the information gleaned being fed back into classrooms, teacher training, and also to the professionals and companies designing, building and equipping schools.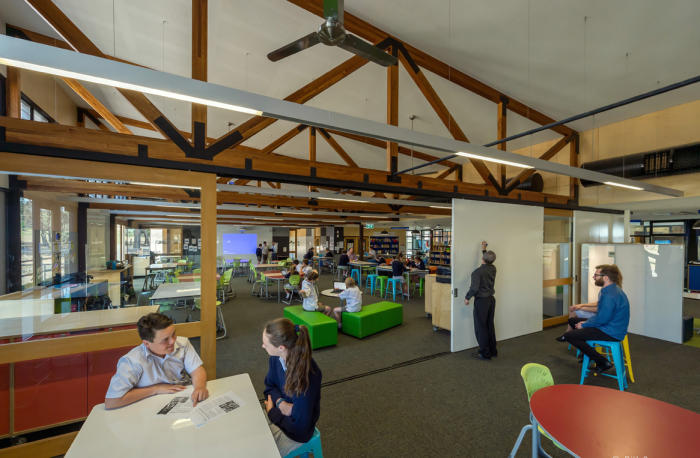 Richard Leonard, director of architecture and design firm Hayball – long-time schools specialists, and industry partners in both ARC projects – says technological drivers and shifts to collaborative teaching have thrown educational culture on its head. "The value of being involved in what is basically global, cutting-edge research is about learning what works and what doesn't, and enables us to move forward with design based not on hope or on fashion or on a gut feel, but on rigorous research." Governments and communities invest millions in educational facilities. "We have an obligation to make sure it works," says Mr Leonard. "If you feel passionate about the transformative possibilities of education, then you have to be doing this sort of stuff."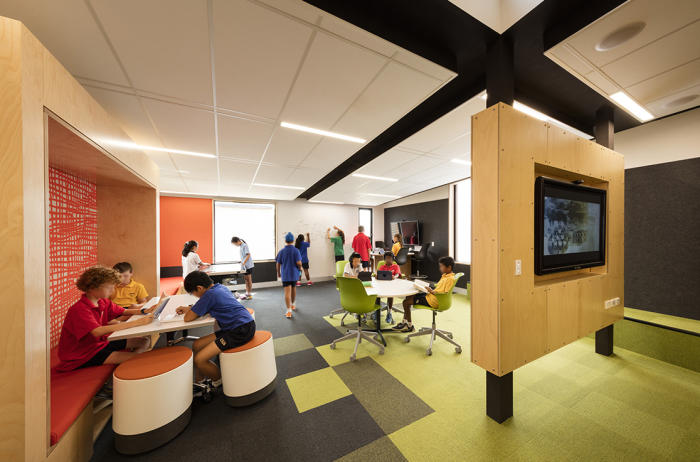 So what are we learning about what a 21st century "classroom" should look like? For a start, it's not a classroom, says Associate Professor Imms, it's a learning environment. "I'm still an advocate of lecture theatres and of didactic teaching spaces, because there are times where it is more efficient to teach big groups, where a teacher just has to say sit down, write this down, memorise it and give it back to me. "But then you need to move quickly into getting five kids to go and nut it out together." Or for the walls to move to cut a space for 60 students down to groups of 20. Or for students to retreat into private cubby holes to research on their own. "So the ideal space has that flexibility." The key development from the first ARC project – evaluating learning spaces – is an online portal that performs like a teaching tool for educators, asking them questions about their school, its structure and layout, needs, purposes, ambitions. "What they are really doing is evaluating the space in terms of the teaching and learning that happens within it," says Associate Professor Imms. The portal then connects them to the existing information on evaluating different environments – "and there are depressingly few, which illustrates the poor state we are in internationally," says Dr Imms. "The fact that there are almost no evaluation mechanisms out there for learning space design begs the question – why are we spending billions if we don't know what success is?" The ARC teams are delving into resolving some of those questions, for instance by tracking teachers and students at one school across a year, surveying and comparing results in traditional, mid-level modern (student-centred, clusters of tables) and highly informal classrooms (beanbags, whiteboards around the walls, no teacher table). One interesting snapshot result is that the kids in the flexible spaces had the best outcomes in their mathematics; and one teacher who had been a die-hard opponent became an evangelical advocate. "It's an example of the scenarios that underpin this project," says Associate Professor Imms. "Teachers don't quite realise the power of potential they have to use in the physical space." The ILETC project is a massive undertaking, involving more than 6000 schools across Australia and New Zealand. Having dug into some of the environmental questions through the earlier ARC research, Associate Professor Imms says the project is moving into a much more contentious area – "challenging teachers about their own teaching in these spaces". The first step is to explore how teachers are using these fast-proliferating innovative environments. Arguably, many are teaching just as they always have. "We believe many aren't utilising all the benefits those spaces give, often because of their mind-frames. They have a particular view of what good teaching looks like, what works, and they refuse to deviate too far from that. "So this is an intentionally provocative project, in that we are going out to teachers and saying 'your students might benefit from a shaking up'," says Associate Professor Imms. "While the project is about space, it is really about our teachers adapting to change, about rethinking how they teach in light of the future needs of their students." To find out more about this project see here. This story first appeared in the University of Melbourne's Pursuit. [post_title] => Changing the shape of teaching [post_excerpt] => Flexible classroom spaces. [post_status] => publish [comment_status] => open [ping_status] => open [post_password] => [post_name] => 24925 [to_ping] => [pinged] => [post_modified] => 2016-09-16 10:44:12 [post_modified_gmt] => 2016-09-16 00:44:12 [post_content_filtered] => [post_parent] => 0 [guid] => https://www.governmentnews.com.au/?p=24925 [menu_order] => 0 [post_type] => post [post_mime_type] => [comment_count] => 0 [filter] => raw ) [8] => WP_Post Object ( [ID] => 24742 [post_author] => 659 [post_date] => 2016-08-17 15:35:38 [post_date_gmt] => 2016-08-17 05:35:38 [post_content] =>
South Australia's first high-rise school. As the idea of high-rise schools in Australian cities gets more popular, the South Australian government has unveiled the design for its first high-rise public high school, which should open its doors by 2019. The new $100 million Adelaide CBD High School, which will specialise in teaching Science, Technology, Engineering and Maths, will be in Adelaide Parklands and the university precinct and cater for 1250 children in years 8 to 12. The state government's plans involve refurbishing the University of South Australia's seven-storey Reid Building on Frome Road and connecting it to a new six-storey building by a glass atrium. The design also features outdoor landscaped terraces for learning and play. Project management company Turner & Townsend Thinc is overseeing the Adelaide school and another school in the air in Parramatta, Sydney. The company is using an innovative procurement model for the Adelaide school, where two contractors provide "early constructability, time and cost advice" during the concept and design phases at a fixed price. Nathan Hawkes, Associate from Turner & Townsend Thinc, said the procurement model was a hybrid of Competitive Early Contractor Involvement (ECI) and Design and Construct Process, which would deliver best value and certainty of cost and time to the South Australian government. "The company is pleased to secure its second future focused school project which will set new benchmarks for the education sector in Australia and provide a valuable resource for the community," Mr Hawkes said. "We will be using our global capability and best practice work principles to deliver one of the most innovative and thought provoking projects that has ever been seen in the country."
The atrium at Adelaide's new vertical school. The school joins a number of high-rise vertical schools going up across Australia, benefitting from customised lay-outs, online delivery, flexible classrooms and inventive additions such as rooftop basketball courts and hanging gardens. The trend for schools to go up, not out, has gained traction in recent years. The first NSW high-rise public school was announced in January, a building project which will transform Parramatta Public School and Arthur Phillip High School into a learning space for 3000 high school and primary-aged children, the highest building being 17 floors. The NSW government is planning a further three multi-storey schools, which will join Sydney's three existing (private) high-rise schools in Sydney: St Andrew's Cathedral School, International Grammar and Macquarie Grammar. Plans are also afoot in Victoria to build a $40 million five-story vertical school in South Melbourne to accommodate 525 children. It makes good sense, as urban space gets tighter and population increases; whether the aim is to reduce a school's urban footprint, for example in Sydney and Melbourne, or to cleverly fill up vacant CBD office space, like the first Western Australian vertical school, St George's Anglican Grammar School in Perth. The concept can get children learning in the heart of busy urban communities, where they are close to facilities such as museums, galleries and churches and next to buildings they might end up working inside. It can also bring the community closer to school facilities for use after hours, such as libraries, gyms and classrooms. [post_title] => High-rise schools stack up [post_excerpt] => First 'high' school for SA. [post_status] => publish [comment_status] => open [ping_status] => open [post_password] => [post_name] => high-rise-schools-stack [to_ping] => [pinged] => [post_modified] => 2017-05-17 11:55:50 [post_modified_gmt] => 2017-05-17 01:55:50 [post_content_filtered] => [post_parent] => 0 [guid] => https://www.governmentnews.com.au/?p=24742 [menu_order] => 0 [post_type] => post [post_mime_type] => [comment_count] => 0 [filter] => raw ) [9] => WP_Post Object ( [ID] => 24691 [post_author] => 658 [post_date] => 2016-08-11 11:43:54 [post_date_gmt] => 2016-08-11 01:43:54 [post_content] =>
How a ground-breaking intervention program is working with families and schools to get children learning again By Dr Lisa McKay-Brown, Melbourne Graduate School of Education, University of Melbourne For most students, the routine of going to school is a straightforward process. Get up, get dressed, eat breakfast, grab school bag and head out of the house. However, for an increasing number of young people, even thinking about school leads to headaches, stomach pains, panic attacks and arguments with parents. For some simply leaving the house is impossible. This is called school refusal. SCHOOL REFUSAL BEHAVIOURS Truancy and school withdrawal are often mislabelled as school refusal. Truancy or 'wagging' is when young people have unapproved absences without their parents' consent or knowledge, and will generally stay away from the family home. School withdrawal occurs with parent consent and involves young people who may be carers or who are working to contribute to the household. School refusal is when young people 'can't' rather than 'won't' go to school. It is defined as a "child-motivated refusal to attend school or difficulty attending classes or remaining in school for an entire day". It's not gender or socio-economic specific, and occurs in up to 5 per cent of students. This increases to 8.2 per cent for students with anxiety. Researchers note that short-term effects of school refusal include poor academic performance, school dropout, family difficulties and worsening peer relationships, while long-term consequences can include academic underachievement, employment difficulties, increased risk of psychiatric illness and economic, social and marital problems in adulthood. GROUND-BREAKING INTERVENTION PROGRAM The first of its kind, the In2School intervention program uses a wraparound approach to help school refusers. Delivered in partnership with the Melbourne Graduate School of Education, the Royal Children's Hospital Mental Health and Travancore School, a mental health-focused special school in Melbourne's north-west, the students aged between 11 and 14 have been school refusing for between three months and two years and have diagnoses of anxiety and/or mood disorders. In2School uniquely brings teachers and clinicians together for up to six months to assess, plan and implement needs-based, personalised programs for each young person at home, in the clinic and in the classroom. Each young person undertakes individual therapy, along with parent sessions that support families to better manage the return to school process. The program is split into three phases: Phase 1 – A teacher and mental health clinician work with the family and student in home and clinic environments to conduct mental health and educational assessments, build rapport, and start the classroom transition Phase 2 – Students attend a 10-week transitional classroom to increase their stamina for learning, including building academic, social and emotional skills. The therapeutic process continues Phase 3 – Students are supported in their return to school in a mainstream setting. WINNING STRATEGY The first group of seven In2School students successfully returned to full-time mainstream schooling in term 1, 2016, after completing the program from July to December 2015, and only one student's school attendance has since lapsed. Students' mental health has improved dramatically, so much so that they no longer regularly see a clinician. Quality of life, including social interactions with peers and positive experiences at school all show great progress. Jo*, one of the students, said: "When I first started the program, I didn't really have a lot of faith in it …If I'd never participated … I think I'd still be locking myself up in my room and not doing anything. It's not only helped with my school attendance but with my emotions … some anxious, depressing thoughts, and attention problems." The second intake of In2School students is progressing well, with students currently transitioning back to their mainstream schools with some attending up to four days a week. WORKING WITH SCHOOL REFUSAL While some school refusal intervention programs exist in Australia, few have had successful results published. Treatment generally focuses on clinical interventions, with the clinician liaising with the school to develop return to school plans. Often when a student does return, the stress of suddenly being back in the school environment can result in relapse. Responding to school refusal is time consuming, with research noting varying success rates in terms of achieving ongoing educational re-engagement. One thing is clear; interventions need to include education and allied health professionals as well as the family and young person. WARNING SIGNS FOR PARENTS AND TEACHERS Research shows that early identification of warning signs is key to successful school refusal interventions. Look out for behaviour including: Complaints about attending school Frequent lateness Absences on significant days (assessments, oral presentations, physical education classes) Poor teacher-student relationships Academic difficulties Frequent requests to go home Excessive worry about a parent when at school Panic symptoms, and Threats of self-harm Parents and teachers who notice these behaviours should record increased absences or patterns, and access support if these continue. *not their real name This story first appeared in Melbourne University's Pursuit. [post_title] => Getting school refusers back to class [post_excerpt] => Groundbreaking intervention. [post_status] => publish [comment_status] => open [ping_status] => open [post_password] => [post_name] => 24691 [to_ping] => [pinged] => [post_modified] => 2017-05-17 11:57:30 [post_modified_gmt] => 2017-05-17 01:57:30 [post_content_filtered] => [post_parent] => 0 [guid] => https://www.governmentnews.com.au/?p=24691 [menu_order] => 0 [post_type] => post [post_mime_type] => [comment_count] => 0 [filter] => raw ) [10] => WP_Post Object ( [ID] => 24060 [post_author] => 671 [post_date] => 2016-06-02 14:55:57 [post_date_gmt] => 2016-06-02 04:55:57 [post_content] => [caption id="attachment_24061" align="alignnone" width="300"]
Scott has delivered a lesson in political survival.[/caption] You could call it the ultimate lesson in political survival: former Australian Broadcasting Corporation chief Mark Scott has been named as the new Secretary of the New South Wales Department of Education, a move certain lead to more major reforms at the giant organisation. The appointment is being billed by NSW Premier Mike Baird as a continuation of a push to recruit top leaders from both the corporate and public sectors to the highest ranks of the public service – and it effectively scotches speculation that Mr Scott left the ABC because of differences with key Coalition powerbrokers. During his term as head of the ABC Mr Scott was persistently accused by sections of the Abbott government and elements of the commercial media industry of failing to redress alleged organisation bias against the Abbott government prior to its implosion. Mr Scott succeeds Dr Michele Bruniges AM, who began her career as a classroom teacher in south-western Sydney. In a neat bit of cross-jurisdictional poaching, Dr Bruniges has been appointed the head of the federal Department of Education and Training. Like Dr Bruniges, Mr Scott also has a strong background in education and education policy having worked as a teacher at Sydney's St Andrews Cathedral School prior to taking on senior ministerial roles with Greiner (Coalition) government under education minister Virginia Chadwick and Terry Metherell. "On leaving the ABC, I was asked what I planned to do next. I can think of no more important opportunity than working alongside the teachers of NSW and the staff of the Department to improve teaching and learning in our schools," Mr Scott said in a statement released by Mr Baird's office. "Mark's appointment takes our reinvigoration of the senior executive of the NSW public service a step further," Mr Baird said. "Along with promoting outstanding young talent from within the service, we have sought out the best and brightest from the corporate world. The appointment of a highly media savvy and digitally literate Education Secretary is also likely to provide some welcome relief for Education Minister Adrian Piccoli who has remained under sustained fire from parts of the tabloid press which have been gunning for his removal. While the Baird government's policies of renewed investment and improving the quality of public education – especially in outer suburban and regional areas – has won widespread electoral support, the approach has rankled parts of the independent education lobby that has had to work harder to obtain government money. "I look forward to working with Mark to continue delivering the most comprehensive set of reforms of school education in a century," Mr Piccoli said. "Our focus remains on improving student results and delivering the skills base needed to grow the NSW economy." [post_title] => It's your public school: Former ABC chief Mark Scott to head of NSW Education Department [post_excerpt] => Lesson in political survival [post_status] => publish [comment_status] => open [ping_status] => open [post_password] => [post_name] => former-abc-chief-mark-scott-made-head-nsw-education-department [to_ping] => [pinged] => [post_modified] => 2017-05-17 11:50:27 [post_modified_gmt] => 2017-05-17 01:50:27 [post_content_filtered] => [post_parent] => 0 [guid] => https://www.governmentnews.com.au/?p=24060 [menu_order] => 0 [post_type] => post [post_mime_type] => [comment_count] => 2 [filter] => raw ) [11] => WP_Post Object ( [ID] => 23341 [post_author] => 659 [post_date] => 2016-03-14 17:56:32 [post_date_gmt] => 2016-03-14 06:56:32 [post_content] => [caption id="attachment_23344" align="alignnone" width="640"]
A scene from Grand Theft Auto.[/caption] Interactive gaming could be Australia's next boom industry, a federal senate committee inquiry has heard. As the country's motor industry grinds to a halt and the rivers of gold from mining start to dry up, there are predictions that the interactive games industry could lead the way in creating jobs, shoring up export volumes and attracting talent back home. The Environment and Communications References Committee has been tasked with reporting on the future of Australia's video game development industry, examining how to increase employment in the industry, maximise exports and attract overseas video game companies to settle here. The committee will also look at how the government can help the industry flourish by initiating changes to taxation and regulation. Gaming is not confined to schoolkids and slacker adults playing Grand Theft Auto for hours on end, it has become a serious business. Interactive games have a huge variety of applications, whether it they are used in health, mining, aged care or education. For example, interactive games can replace psychometric testing in job interviews; identify hearing problems, stave off dementia and combat teenage bullying. CEO of the Interactive Games and Entertainment Australia (IGEA), Ron Curry told the inquiry: "We hold that interactive games, as the newest and most comprehensive entertainment medium, will open many opportunities for Australian companies which are far wider than just entertainment. Mr Curry said there was huge potential for increasing exports, "These are weightless exports. We do not need to dig them up, they are clean and there is a limitless resource." The numbers behind the industry are staggering. In 2015 Australians spent almost $3 billion on interactive entertainment (downloadable content, software, equipment etc.). Mr Curry told the inquiry that global revenue from the entertainment side of the interactive gaming business alone in the next couple of years was greater than the cumulative revenue of the global film industry. "When we are talking about games that are being released that are bigger than all box office hits, I guess it is a bit mind-boggling for those who are not engaged in the industry to understand how big it is," he said. "We are not just creating a bunch of developers who are drinking Coca-Cola and playing shoot-em-up games; we are creating the next level of business, education, defence. This is where they are learning." Supporting this industry could have significant implications for regional Australia: both for creating jobs and to connect people to services and each other. It also makes the regional roll-out of the National Broadband Network a government priority. "That is the exciting part about it. You can be in Noosa, or Wangaratta or Wagga and still set up a viable business in our space. What you need is the infrastructure [the NBN]," Mr Curry said. "If the infrastructure is there it is possible to keep employment. We know this industry employs predominantly young people, so what we are doing is keeping young people in regional centres. We are employing them and we are creating an export market." Two of the biggest growth areas are Virtual Reality (VR), which is about stepping into a different world and Augmented Reality (AR), where you can add extra information onto what you are seeing in the real world. Virtual reality is particularly exciting in Australia, where huge distances separate people, Mr Curry said. "Regional centres can connect with experts in population centres using tools like VR and can get much more personal communication across – not just a voice on a video screen, but body language." How the government can help The industry is pressing for the introduction of a producer offset, similar to the one enjoyed by Australia's film and TV industry. Neil Boyd, Director of Business Development and Marketing at Academy of Interactive Entertainment said that extending the producer offset to interactive games would help bigger studios, such as EA, Halfbrick and Wargaming, some of which had moved overseas during the global financial crisis when the Australian dollar was strong. Large studios are training grounds for people who later establish independent studios. They also provide jobs and help stem the brain drain of developers going to the US, Canada and Europe. Other industry suggestions for government help included start-up funding and mentoring for smaller projects and better targeting Export Market Development Grants to digital businesses. Several industry figures also suggested that the government provide some help with travel expenses to attend domestic and international industry events, which were often critical for companies to score deals with companies like Nintendo, Sony and Microsoft. The federal government cut short the three-year $20 million Interactive Games Fund in 2014, leaving $10 million unspent. China Leon Young, CEO of educational games company 2and2, said the biggest game market was China. He said it was "trending way above the US" and had the largest spend on apps and mobile digital content. Mr Young said the Australian government could boost the industry's profile by subsidising regular trade missions to China and helping Australian games companies that did business in China network with each other. He said strengthening relationships with the Chinese government could help Australian companies understand and navigate regulations, which could limit the commercial risk to companies of having a game pulled or not published. [post_title] => Game on: How interactive games could save Australia [post_excerpt] => Rebirthing regional Australia with virtual reality. [post_status] => publish [comment_status] => open [ping_status] => open [post_password] => [post_name] => game-on-how-interactive-games-could-save-australia [to_ping] => [pinged] => [post_modified] => 2016-03-15 10:13:29 [post_modified_gmt] => 2016-03-14 23:13:29 [post_content_filtered] => [post_parent] => 0 [guid] => https://www.governmentnews.com.au/?p=23341 [menu_order] => 0 [post_type] => post [post_mime_type] => [comment_count] => 1 [filter] => raw ) [12] => WP_Post Object ( [ID] => 22822 [post_author] => 671 [post_date] => 2016-01-21 09:03:00 [post_date_gmt] => 2016-01-20 22:03:00 [post_content] =>
Since 1988, the number of fee-paying international students at universities in NSW has increased 13-fold. Today, one in every five students studying at a university in NSW is an international student. The income generated by these students makes up approximately 17% of the state's university operating revenues and, in some cases, has become essential to funding a range of other activities around campuses. Of course, Australian universities are not the only attractive destinations for those looking to study abroad. Increasingly, the local tertiary sector has had to compete with universities in the same state, interstate and around the world to maintain its foothold. Pursuing this steady profit stream has, however, thrown into question the academic capabilities of the international students being recruited, the legitimacy of the grades they subsequently receive, the conduct of academics as a result of added pressures and a university's overall obligations to standards and good governance. In April, the NSW Independent Commission Against Corruption (ICAC) released its findings into a research project on these and other issues. The paper reveals that some universities in NSW are entering markets where document fraud and cheating on English-language proficiency tests are known to exist and that some are using up to 300 local intermediaries or agents to market to and recruit students, resulting in due diligence and control challenges. This has resulted in a "student capability gap" (a gap between the capability of the student and the academic demands of the course) and pressures on staff within universities in NSW to pass students in order to continue to meet recruitment and budgetary targets – pressures that are conducive to corruption. Although there are no simple solutions to these problems, the Commission has identified 12 corruption prevention initiatives that NSW universities should consider adapting and adopting as appropriate to their organisation, for example:
considering the full costs associated with international students of different capabilities when making marketing decisions (that is, understanding profit rather than revenue contributes to a more robust minimum capability standard being established)
limiting the number of overseas agents with which the universities work, where possible
altering incentive structures applicable to agents in order to encourage the provision of quality students (for example, performance ranking-based payments, payments linked to student progress at various stages, and payments linked to long-term performance of the agent)
separating the compliance function from the business development function (for example, moving the admission functions out of international student offices that are responsible for marketing and recruitment and limiting the impact of international student numbers on faculty budgets)
assessing risk in markets and using this to develop risk treatments (for example, strengthening due diligence on agents, targeting of specific students, increasing vetting for students from high-risk markets or withdrawing from the market)
building on university strengths, where possible, to develop niche international operations capable of attracting higher-capability students.
The report, Learning the hard way: managing corruption risks associated with international students at universities in NSW, is available from the ICAC website at www.icac.nsw.gov.au
By Hon Megan Latham, Commissioner, Independent Commission Against Corruption, New South Wales. West's CCC gets new chief Julian Bajkowski New South Wales and its Independent Commission Against Corruption might hog the limelight when it comes to exposing the questionable dealings of some of state's politicians, but the august institution could soon some have competition in generating headlines from across the Nullarbor. After more than a year without a permanent head, the Western Australian government and the state's Corruption and Crime Commission have finally announced Supreme Court Justice John McKechnie QC will now head the powerful agency tasked with ferreting out graft, kickbacks and abuse of power in law enforcement and the public sector. The length of time finding a suitable and willing candidate to replace Roger Macknay, QC, who quit on 14 April 2014, has underscored the difficulty of the job which had previously spanned across both major crime and corruption to less serious minor misconduct and governance education functions. In what appears to be a substantial concession to the CCC and an acknowledgement of the urgency and resources needed to address higher level malfeasance, WA Premier Colin Barnett and his Attorney General Michael Mischin revealed that minor and less serious casework will be run by the Public Sector Commissioner, along with education. Mr Mischin said Mr McKechnie's appointment came after "an extensive selection process by a nominating committee presided over by the Chief Justice of the Supreme Court, the Chief Judge of the District Court, and a community representative, and had the bipartisan support of the members of the Parliamentary Joint Standing Committee on the Corruption and Crime Commission." The Barnett government is certainly talking-up its new watchdog's ability and determination to bite crooks. "Prior to his appointment to the Supreme Court in 1999, Justice McKechnie spent more than eight years as the State's inaugural Director of Public Prosecutions," the Mr Barnett said. "He has developed a formidable reputation in the investigation and prosecution of crime and will bring to the office considerable experience in the management of an independent statutory authority." The CCC itself is selling its new head's focus on cleaning up the state's police force. Announcing Mr McKechnie's appointment the CCC said he took over leadership at a time when the organisation was repositioning itself for a "second decade of operation, with a keen focus on serious misconduct and oversight of the Western Australia Police." In February a CCC investigation led to the conviction of two WA cops for illegally planting tracking a device on the car of one of the men's partners. The Magistrate in the case said that one of the convicted policemen probably put the tracking device in place as a favour to a mate trying to find out if his partner was cheating on him and rejected sworn evidence that one of the officers was trying to find out who was selling drugs to his partner. Qld councils cold on fraud audit The Local Government Association of Queensland (LGAQ) has fired back over a sharply critical report on fraud management in the state's councils issued by the Queensland Audit Office that has called a tougher approach to compel better reporting of losses and record keeping of allegations. The took issue with how accurate the disclosure of fraud is within Queensland councils, saying that "almost two-thirds of councils surveyed (63 per cent) claimed to have had no confirmed cases of fraud over the past five-years" – a figure the Audit Office said was inconsistent with global research. But the chief executive of the LGAQ, Greg Hallam, has defended councils' performance on managing fraud. "We believe systems councils have in place are largely working in that confirmed fraud cases were detected and dealt with," Mr Hallam said. "Risk management strategies, increased internal audit function requirements, registers of interest, and disclosure of conflicts of interest and material personal interests, with significant penalties for breaches, are all means by which fraud can be limited and controlled." The peak body for councils is also pointing to the low value of fraud losses against the backdrop of large expenditure. "The Auditor-General established that councils have reported 324 cases of alleged and proven fraud between July 2009 and November 2014 involving sums totalling $8.6 million. This is against the backdrop of some $36 billion of total expenditure by local governments in this period," Mr Hallam said. Mr Hallam said there would always be "individuals who attempt to take advantage of the system but there is no evidence of systemic failure requiring more regulatory controls." Even so, he said the LGAQ will continue to work with the Queensland (state) Government "to ensure local councils can respond effectively to the risks of fraud." The Audit report found, through a survey of councils it conducted, that local governments in Queensland did not provide a fraud loss value for 58 per cent of their fraud cases. Some 44 per cent of councils indicated they do not have a system to manage their fraud information, the Audit Report said. This story first appeared in Government News magazine June/July 2015.  [post_title] => Tackling tertiary corruption [post_excerpt] => ICAC corruption prevention initiatives. [post_status] => publish [comment_status] => open [ping_status] => open [post_password] => [post_name] => tackling-tertiary-corruption [to_ping] => [pinged] => [post_modified] => 2016-01-21 11:35:21 [post_modified_gmt] => 2016-01-21 00:35:21 [post_content_filtered] => [post_parent] => 0 [guid] => https://www.governmentnews.com.au/?p=22822 [menu_order] => 0 [post_type] => post [post_mime_type] => [comment_count] => 0 [filter] => raw ) [13] => WP_Post Object ( [ID] => 22811 [post_author] => 659 [post_date] => 2016-01-20 13:24:00 [post_date_gmt] => 2016-01-20 02:24:00 [post_content] =>
There is a major need for the My School website to be amended to accommodate students with disability, says a key national disability organisation. Speech Pathology Australia is calling on the Federal Government to include a national disability measure so parents of children with disability can identify schools best suited for their children's needs. The proposed plan would identify the resourcing and skills individual schools have to assist students with disabilities and measure a schools' ability to handle 'disability' in its education program.The Association's proposal follows the release of the Australian Senate Report on 'Access to real learning: the impact of policy, funding and culture on students with disability.' National president of Speech Pathology Australia, Gaenor Dixon, said that speech pathologists know from first-hand experience that "parents of kids with disabilities continue to get a raw deal when it comes to education." It is estimated that one in five children start school with a significant speech, language or communication problem that impacts on their learning. While welcoming the Senate Report, Dixon said she did not want to see it descend into a debate about funding. "Part of that strategy needs to include a plan to amend the current My School website as such a measure would allow parents of children with disability to compare schools and see what speech pathology and other specialist services are on offer to support their children in securing access to full education." Dixon said the Association recognises government funding is only one part of the equation for improving education outcomes for students with disabilities and principals and teachers need help in supporting these children. "The Senate Report made it clear that they are the 'gatekeepers' to the education system for children with disability," she said. According to Dixon, the amendment would make the whole education system accountable for how they deal with disabilities. "It would, as the report states, recognise all students with disability as learners and drive the cultural change required to achieve this, particularly at a school leadership level." [post_title] => Push to give 'My School' website a disability inclusion plan [post_excerpt] => Give parents more info: Speech Pathology Australia. [post_status] => publish [comment_status] => open [ping_status] => open [post_password] => [post_name] => push-to-give-my-school-website-a-disability-inclusion-plan [to_ping] => [pinged] => [post_modified] => 2017-05-17 11:56:40 [post_modified_gmt] => 2017-05-17 01:56:40 [post_content_filtered] => [post_parent] => 0 [guid] => https://www.governmentnews.com.au/?p=22811 [menu_order] => 0 [post_type] => post [post_mime_type] => [comment_count] => 2 [filter] => raw ) ) [post_count] => 14 [current_post] => -1 [in_the_loop] => [post] => WP_Post Object ( [ID] => 27784 [post_author] => 670 [post_date] => 2017-08-07 13:13:10 [post_date_gmt] => 2017-08-07 03:13:10 [post_content] =>
Parents need a fair and informed choice, writes incoming CEO of Primary Ethics Evan Hannah. Allowing parents to make an informed choice when enrolling their children in NSW public schools is simply a matter of fairness. But in NSW, you cannot enrol your child in ethics classes on the enrolment form, as you can for religious instruction. The burden is on parents to work through the current confusing process before they finally get the chance to access ethics classes for their child. I became involved with ethics education as a volunteer ethics coordinator three years ago at my son's school in Sydney's inner west. As an ethics coordinator, I've seen that the unfair approach to enrolment into ethics classes continues to frustrate parents and school staff alike. The government has made it as difficult as possible for parents to access ethics classes for their children. It rejected recommendations from an independent report for parents to be provided with better access to information and enrolment opportunities, and it cannot explain why that is fair or reasonable. Quite simply, we just seek equal treatment for all parents. We'll continue to work with the Department of Education to streamline the enrolment process for both parents and school staff. Who is Primary Ethics? Primary Ethics was established in 2010 at the request of the NSW Government to provide ethics education for children in NSW public schools. From 1,530 students in the first year of classes, Primary Ethics is now taught to more than 36,000 students by 2,500 volunteers in weekly classes at 450 schools across NSW. An ethics program is launched at a new school approximately every 10 days, but the government enrolment policy is a huge impediment to fulfilling the Primary Ethics goal of offering the program to the rest of the estimated 70,000 students who are currently spending one lesson a week in the holding pattern of 'non-scripture'. The continuing confusion about enrolments obviously affects our growth. We know when one school decides to start Primary Ethics classes, and we train volunteers who then begin teaching, it has a domino effect on nearby schools as awareness grows. Removing the ridiculous block on informed choice would give more NSW children a chance to learn skills to make better decisions. Public support for an ethics-based complement to Special Religious Education (SRE), began in the early 2000s and culminated in an amendment to the NSW Education Act in 2010 to enable Special Education in Ethics (SEE) classes to be delivered alongside religious instruction during the designated timeslot. This was significant, because it was the first time since 1866 that children who did not take scripture could instead take part in an activity of benefit to the child, instead of effectively doing nothing. Until 2010, the Education Act mandated that children who did not attend scripture could not undertake any learning during this timeslot to ensure that children receiving religious instruction did not miss out. Discussion-based ethics classes are facilitated by trained local volunteers using a curriculum written by specialist in philosophy and education, Dr Sue Knight, and reviewed by both an internal committee and the Department of Education. The stage 3 (years 5 & 6) lesson materials were completed in 2011, the first year that the ethics program was rolled out. A new stage-based curriculum was developed each year, and from 2015, the program has been available for delivery across all primary-school stages, from kindergarten to year 6. We now have an excellent, world-first ethics curriculum available free for communities to use to educate their children. And thanks to donations, we are also able to provide recruitment, screening, and free training and support for volunteers willing to be involved in delivering those lessons. Primary Ethics is the sole provider of ethics classes in NSW. The free program is taught by trained volunteers following a curriculum written for various primary school stages, covering years K-6. The curriculum is approved as age-appropriate by the Department of Education. Evan Hannah is a former journalist and news media manager who became CEO of the not-for-profit organisation in July. [post_title] => Schools: we need clarity around the ethics option [post_excerpt] => Parents need a fair and informed choice, writes Evan Hannah. [post_status] => publish [comment_status] => open [ping_status] => open [post_password] => [post_name] => schools-need-clarity-around-ethics-option [to_ping] => [pinged] => [post_modified] => 2017-08-07 20:18:17 [post_modified_gmt] => 2017-08-07 10:18:17 [post_content_filtered] => [post_parent] => 0 [guid] => https://www.governmentnews.com.au/?p=27784 [menu_order] => 0 [post_type] => post [post_mime_type] => [comment_count] => 0 [filter] => raw ) [comment_count] => 0 [current_comment] => -1 [found_posts] => 29 [max_num_pages] => 3 [max_num_comment_pages] => 0 [is_single] => [is_preview] => [is_page] => [is_archive] => 1 [is_date] => [is_year] => [is_month] => [is_day] => [is_time] => [is_author] => [is_category] => [is_tag] => 1 [is_tax] => [is_search] => [is_feed] => [is_comment_feed] => [is_trackback] => [is_home] => [is_404] => [is_embed] => [is_paged] => [is_admin] => [is_attachment] => [is_singular] => [is_robots] => [is_posts_page] => [is_post_type_archive] => [query_vars_hash:WP_Query:private] => b8376f52b689e2d587c05d5fb85c5901 [query_vars_changed:WP_Query:private] => 1 [thumbnails_cached] => [stopwords:WP_Query:private] => [compat_fields:WP_Query:private] => Array ( [0] => query_vars_hash [1] => query_vars_changed ) [compat_methods:WP_Query:private] => Array ( [0] => init_query_flags [1] => parse_tax_query ) )
education